Afri Core
In todays environment of limited capital expenditure, we can help make your budget go further
The One Stop Solution to all your Exploration Projects.
Dynamic Innovation
Passionate about your Business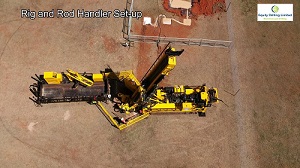 Exploration Drilling
Through our vast network we have associated ourselves with a drilling company to provide drilling services
Combined experience of thousands of hours, expertise that will address all your drilling needs

Equity Drilling Limited, (Equity) was established in October 2016.
The founder, Mike Warren, has been associated with drilling for some 42 years, operating on drilling projects across Africa, South America and the Middle East.
Mike has been instrumental in Launching a number of drilling companies over the years, such as Geosearch and Afridrill, companies that had great success under Mike's management.
Equity's vision is to be the leading drilling services provider for the African mining and exploration industry and be the partner of choice for the safe drilling of projects across all drilling disciplines.
Our experience in working and operating in remote, difficult and often hostile environments, combined with our expertise and approach to safety on the drill pad, sets us apart from our competitors on the African Continent.
Safety has become paramount and In keeping with its creed of safety, Equity has designed and built its own Hands Free Rod Loader.
Equity has a fleet of drill rigs that can cover all drilling
from diamond at 3,000 meters, RC at 350 meters to all other drilling types. The fleet is maintained by a group of specialists to ensure reliability and minimum down time.
Mail Us

ccurrie@africore.co.za

michelle@africore.co.za

Find Us

26°5'39.60"S 28°22'41.85"E

Phone Us

+27 836288686

+27 74 8022315

Fax Us
Welcome to Afri Core - Suppliers to the Mining, Exploration and Drilling Sectors
On our download page, we have a comprehensive printable list of all products and services. This list is also designed to prompt you for items. Whilst this list is fairly comprehensive, there may be other items you may require. Please let us know about these and we will source them for you.
Also on our download page, is the information about Core Splitters. These include the Corematic fully automatic core splitter down to the small mobile splitter.
For Information on Corematic, please click on the Corematic Logo. This will take you to the website where you will be able to access all the information you may require
Current downloads are
Arix Blade Technology
Comprehensive Product List
Corematic Information
Afri Core Entry Level Core Cutter
Point Load Tester
For more detail as to whom we are, check out our Profile.
Our primary purpose is to assist you with your projects by supplying innovate, cost effective equipment and services.